It's essential for SecuriSync that all users' files were safe. After several discussions with Product Owners about how we can prevent data from corruption, we decided to proceed with a feature, that will check all users' files on malware regularly. And if something goes wrong, it'll move these files to quarantine to prevent other files from being damaged. Usually, cloud services don't have antivirus. So, we worked on something new for this area.
1. Get a basic knowledge about the area
As it's a new undiscovered land for me, I had to dig deep to understand how, first of all, malware works and what types of it exist. So I spent some time researching and discussing this topic with developers. I enjoyed this kind of experience as I was able to learn something new. That was time to ask stupid questions such as "How can we be sure that this is a bad file?"
2. Understanding the problem
We sent a survey to clarify use cases and to hear real users' experiences with corrupted files. Apart from that, we had interviews with real customers. We already had a feature to restore data if it was corrupted. We knew that users use it from time to time. We wanted to know the "whys." The most popular case was when users got "Ransomware," malware that blocks all files and asks for money.
It was a time to combine all information we got: results of survey, complaints to support, technical details, and PM vision. I made various UX artefacts. One of them is a user flows for cases we found, presented below.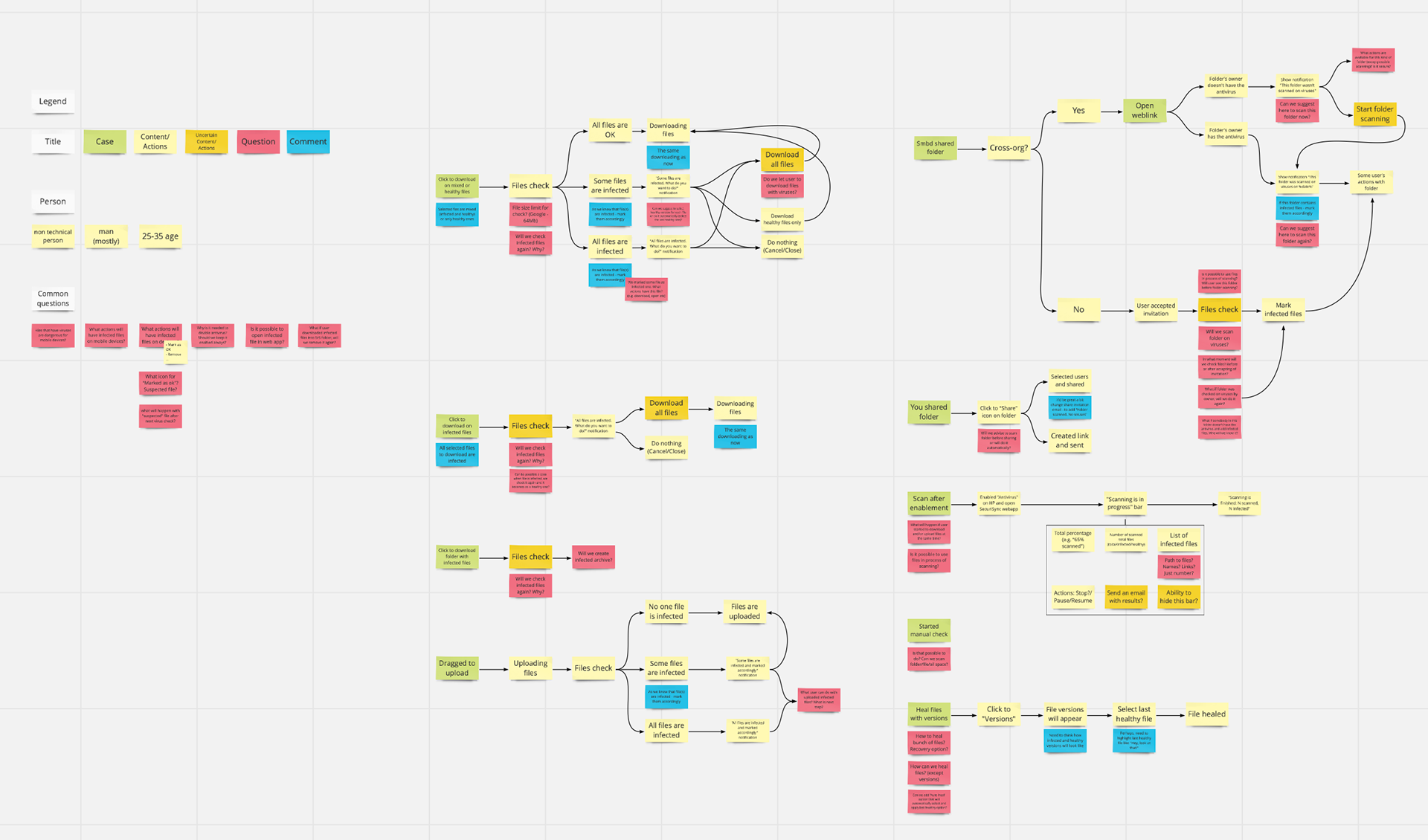 Wireframing time!  I had several iterations of wireframing and made low-fidelity prototypes for further usability tests.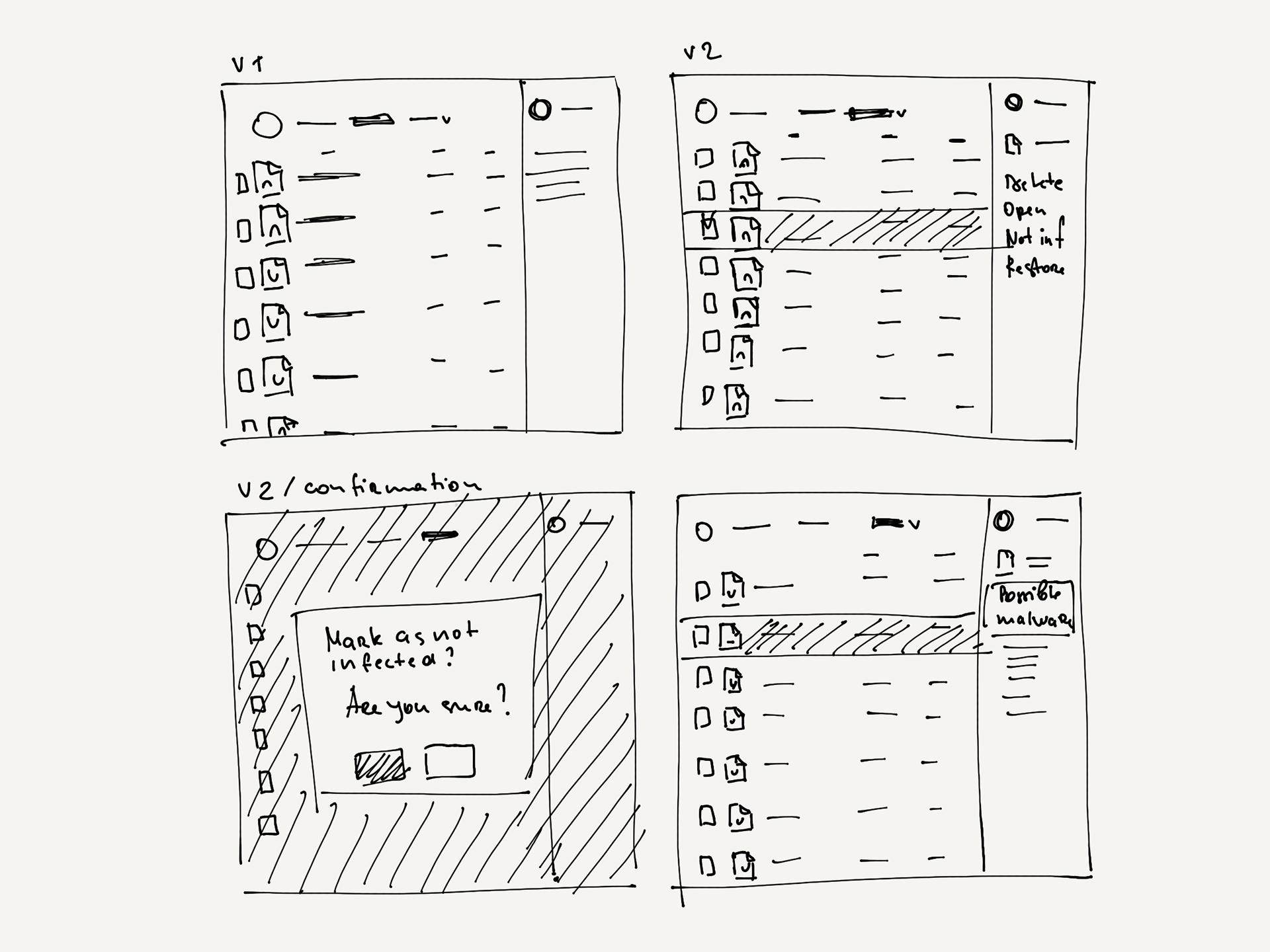 Some interesting things we validated:
- How will the user react to malware in his data storage? (As it may increase the level of stress, we assumed that maybe we shouldn't notify the user about it at all and notify only his technical administrator)
- How obvious is it what to do now with an infected file?
- How will the user behave if he can't find a file as it was moved to quarantine? (the most intriguing topic)
I validated the prototypes with new and existing users from the U.S.A., and made appropriate changes based on the feedback.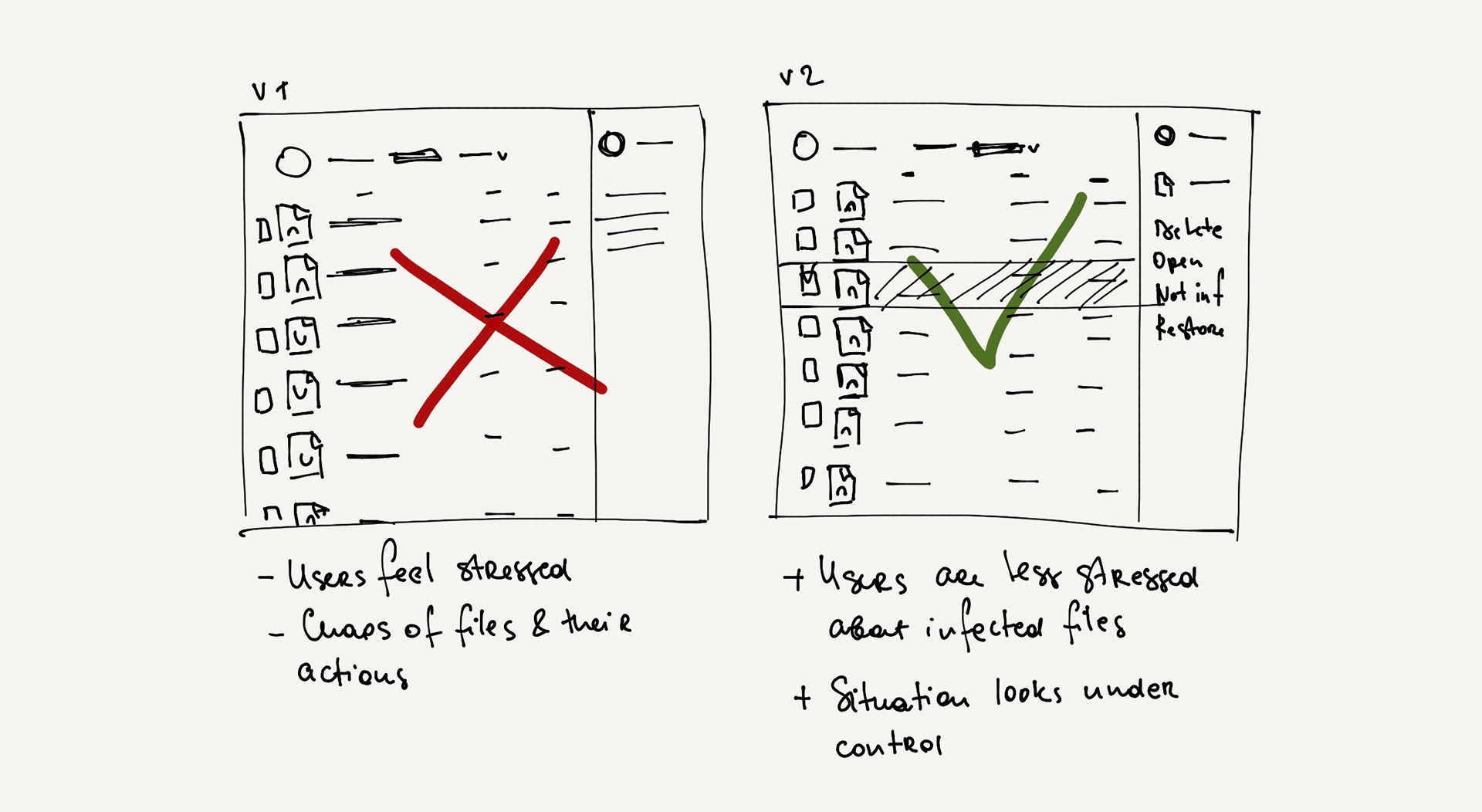 It's UI for end-users. The first screen displays a regular list of files. The second one shows a list of files in quarantine, as they were detected as malware. Users can mark a file as "Good" if their technical administrator allows it.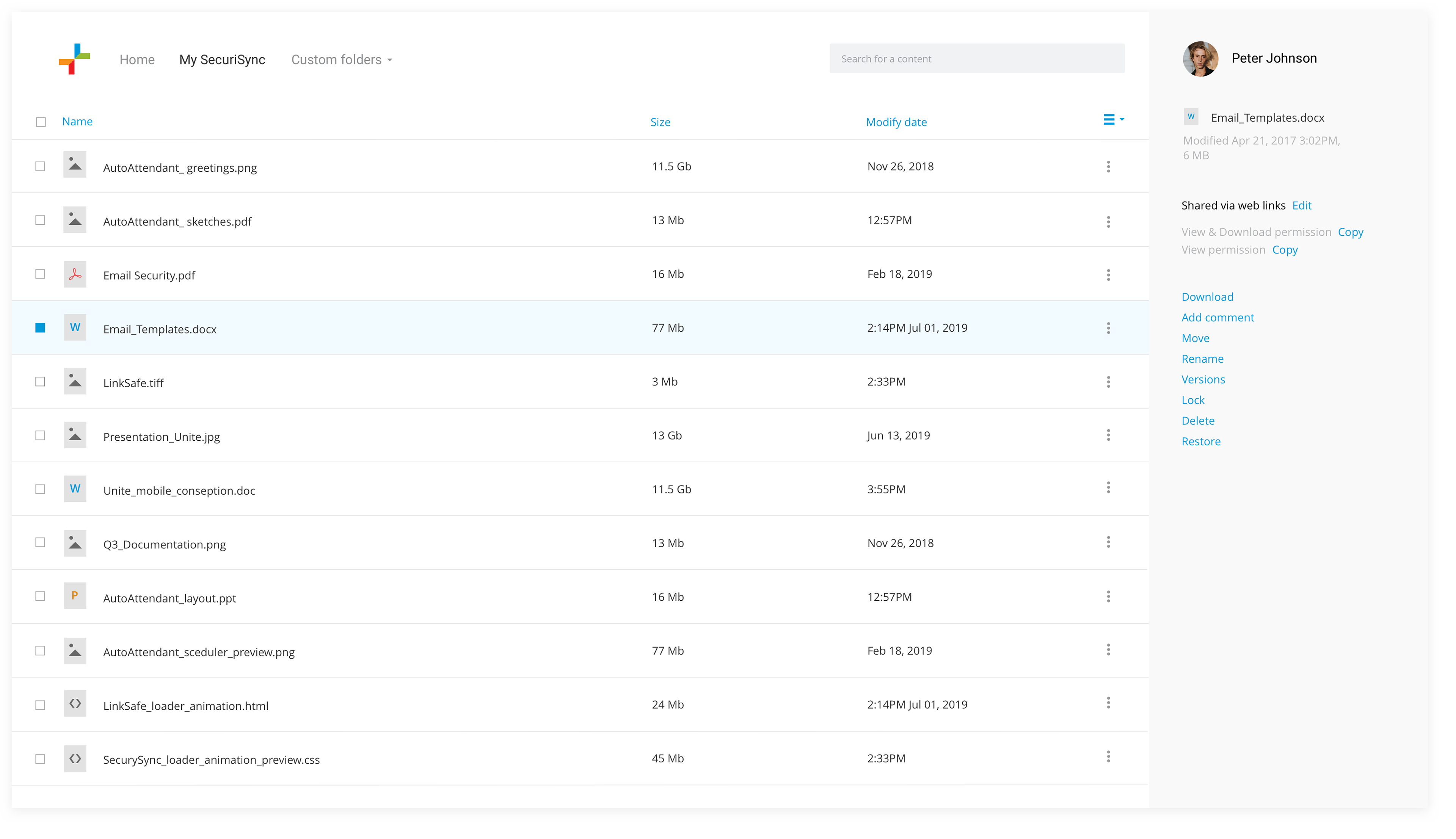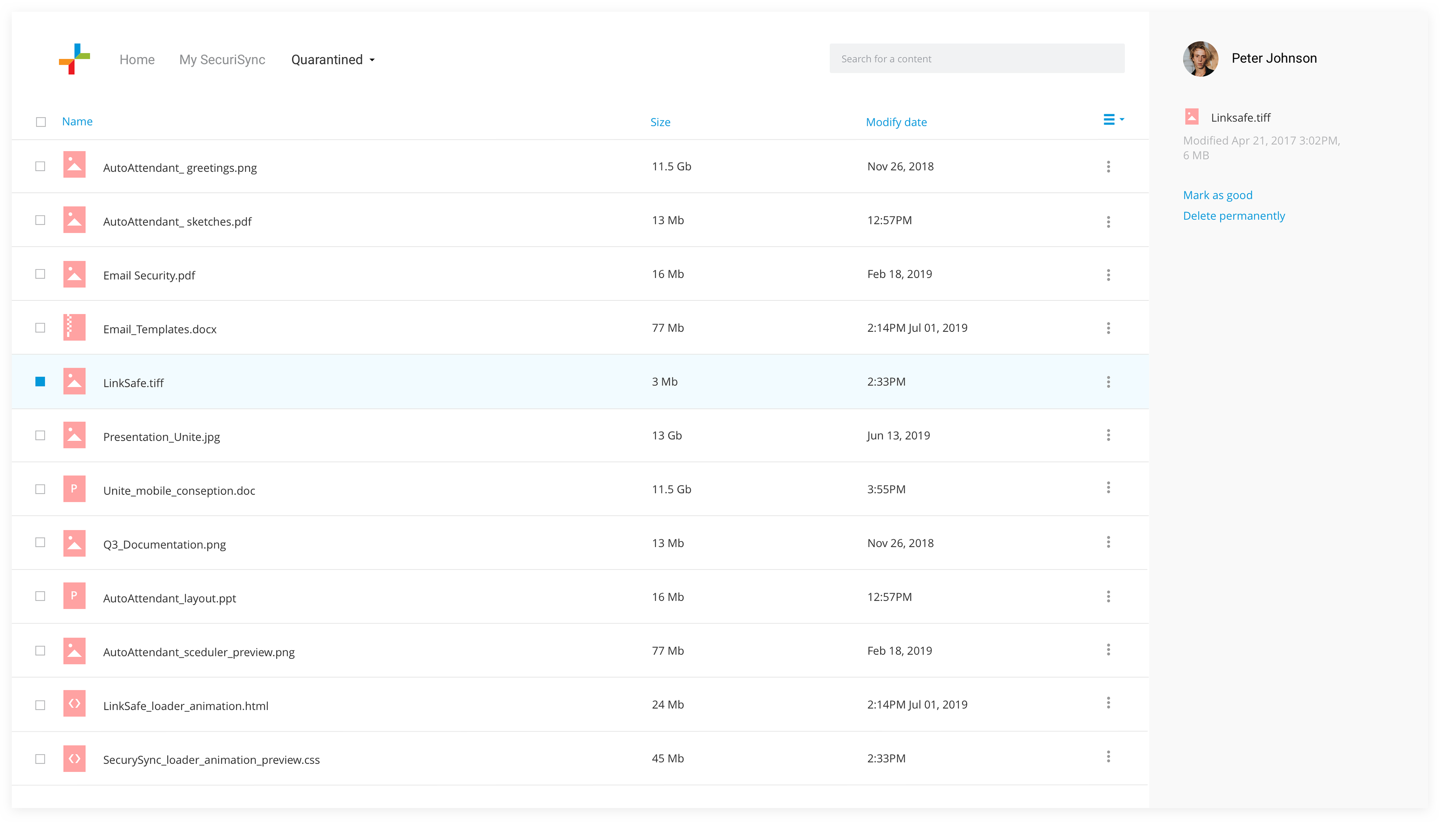 After the feature release, NPS company slightly increased, and we've got a bunch of positive feedback from customers. 
These are emails that customers get when some files were marked as infected.