The main goal was to allow users to upload and download files from mobile device to cloud storage. SecuriSync focuses on security so files encrypt/decrypt during the process and it may take some additional time. Based on users' interviews, other goals are formulated as:
- The user should have access to the app as processes as long as they can be encrypted.
- The user needs to clearly understand how the process goes.
- The user should have the ability to download file(s) while uploading.
Before starting user interviews, it's essential to collect all the information that we already have about a future feature. We have feedback forms, support and customer experience teams. In case of this feature, support and CX didn't have any relevant information but we found users' requests and feedback that was sent using the form. Based on this feedback, we got rid of some functionality and added more user stories like: "As a user, I want to upload files from places with limited access to the internet so that my customers can get information ASAP."
Some questions:
- Do you have the SecuriSync mobile application?
- When do you use SecuriSync on your mobile phone?
- What do you often perform using the SecuriSync mobile application?
- Describe the last situation when you uploaded files via the web application.
I prefer to start thinking on paper before I start prototyping. It helps me to combine all pieces of information I have into one clean vision. Also, during this process, I usually formulate a bunch of important questions.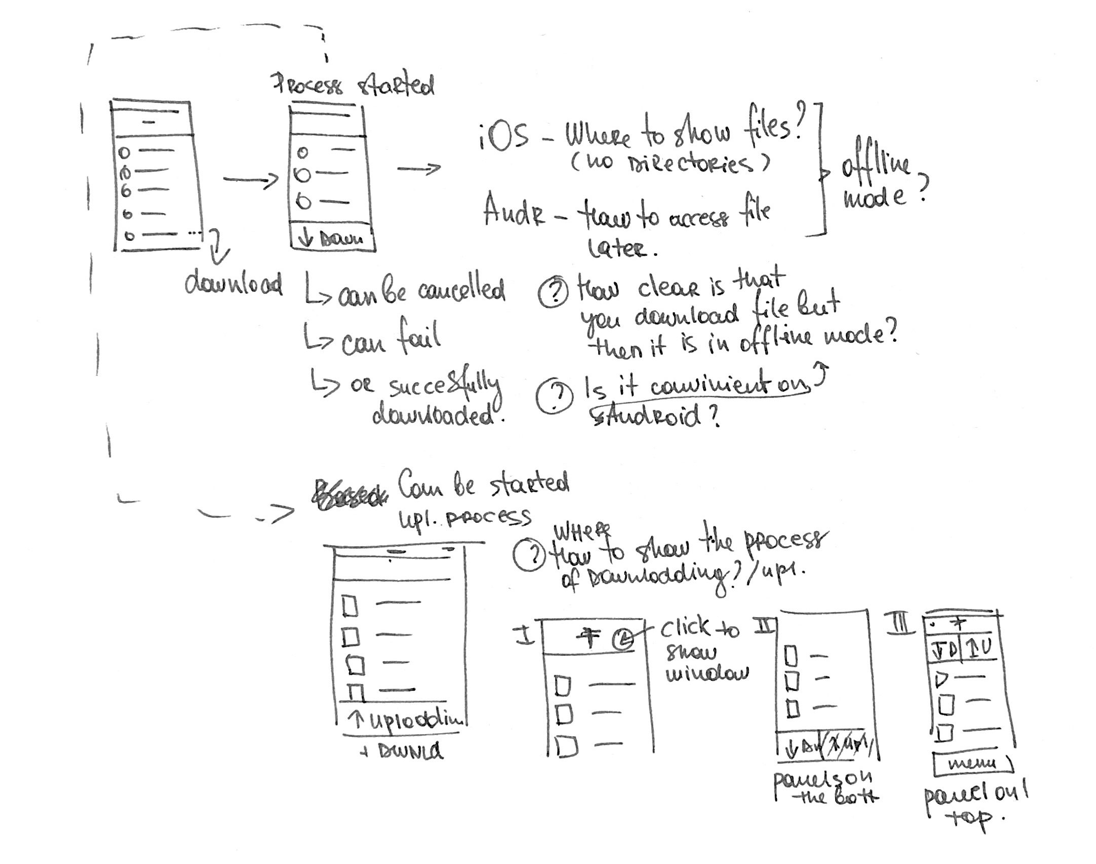 4. Wireframing & discussion with developers and PMs
As often happens, before starting to make high-fidelity prototypes and final designs, we need to be sure that everything we imagined can be developed :)
We had several concerns to test:
- How clear is it if a user downloads a file into the app and will it be possible to get this file in the app only?
- We had five different concepts about where to place uploading/downloading processes and wanted to identify the best one.
- How easily can a user find all downloaded files?
We conduct remote user tests using low-fidelity mockups via UserTesting.
The final UI made using Apple iOS guides.